Most of our foals are sold in-utero, so if you're interested in one from the 2018 foal crop, please contact me. They're listed here in the order they're expected.
St. Pr. A Elfenfeuer OLD (Florencio/ Sion/ Figaro)  

                  x  For Romance (Furst Romancier/ Sir Donnerhall/ Don Schufro)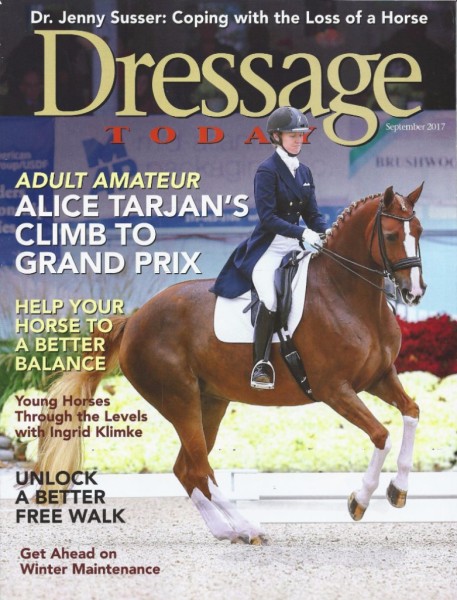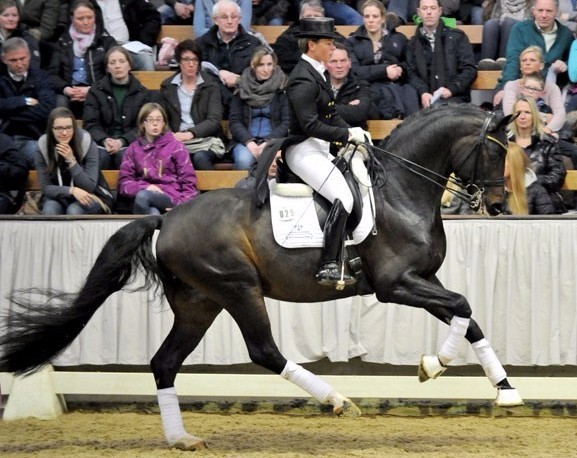 Alice Tarjan generously allowed me to try for an embryo from her spectacular mare and I'm over the moon that it worked. "Fury" has many accomplishments, including National Adult Amateur Grand Prix Champion in 2014. She was also campaigned by Lar Petersen as a mount for the Rio Olympics but was sidelined by an anjury.
Fury comes from the illustrious "Elfen" damline of Ewald Grotelueschen, her breeder, from which many successful upper level competition horses have originated. Elfenfeuer completed her mare performance test in Vechta and was selected to compete in Rastede, then she was purchased at the Oldenburg auction in Vechta and imported to the US. Alice purchased the mare at four and did all the training herself. 
From two such successful parents, this foal is -- I hope -- a filly to keep for my broodmare band, but may be available if a colt.
Icky L (Desperado/ Ferro/ Abgar xx)  

                  x  Ampère (Rousseau/ Flemmingh/ Amor)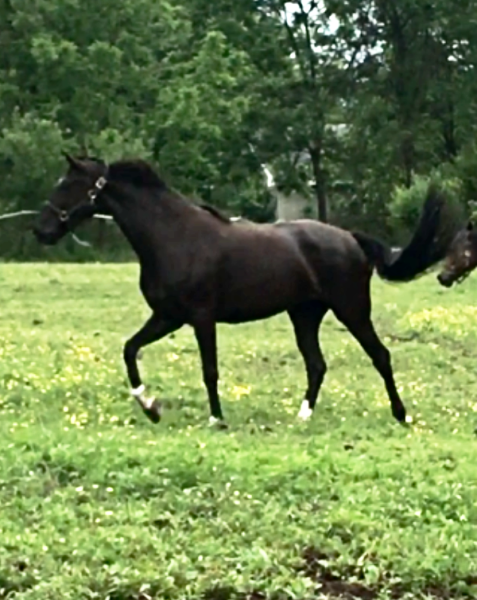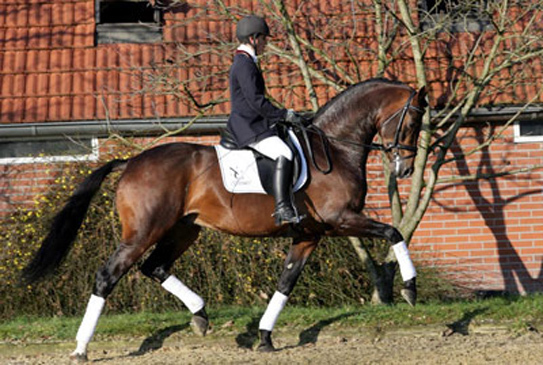 Icky L is a young Dutch mare who, at her keuring in Ermelo,  earned her Provisional Keur and Prok status , meaning her scores for conformation and movement (several in the 80s) were exceptional and she has excellent x-rays. Icky comes from a very strong damline -- all names traditionally ending in -icky, which explains her name. Both granddams as well as her dam achieved their Prestatie status.
                                      Desperado:                                                                   Ampere:
Dona Amour (San Amour/ Florencio/ Donnerschwee)  

                  x  Welfenkonig II (Wolkenstein II/ Matcho/ Garibaldi II)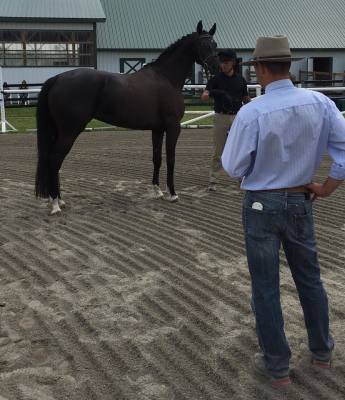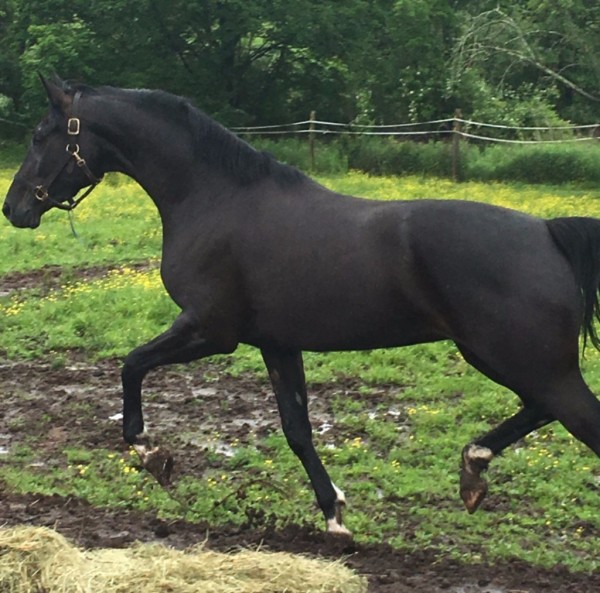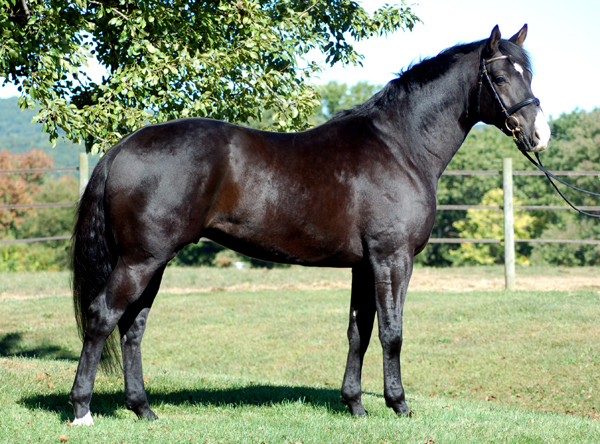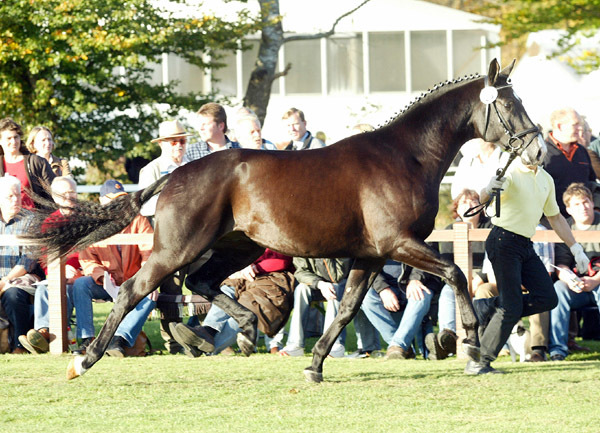 Dona Amour is a young mare with spectacular movement and excellent bloodlines. The GOV inspectors remarked on her striking likeness to her sire, San Amour. Before becoming a broodmare, Dona Amour's dam Dona Florena, by Florencio, was very successful in hand and was East Coast Champion. Dona Amour's grand-dam, Dona di Mondo, was Reserve Champion mare of the Brilliantring in Rastede.
Dona Amour -- aka "Smudge" -- is an elegant, sensitive mare with lots of presence. Like her sire, she's uphill, electric, and has a very active hind leg. We're very excited to see the result of her pairing with Welfenkonig II, himself an incredibly well-bred horse, has the rideability and type that should compliment Smudge very well. 
EM Raleska (Rascalino/ Warkant/ Argentan)  

                  x  Floriscount (Florencio/ Donnerhall/ Walldorf)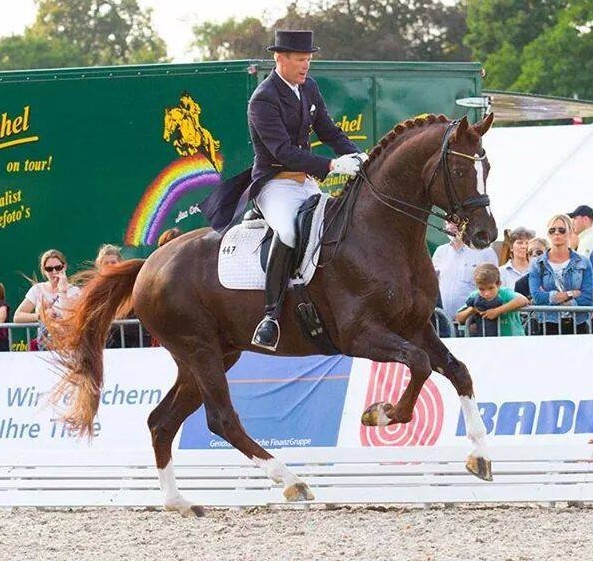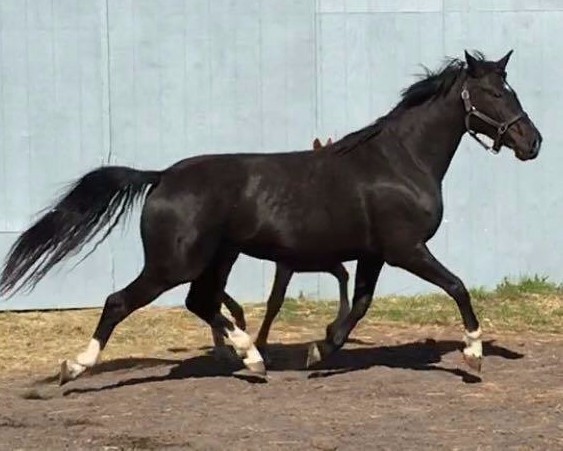 Pairing Raleska with Floriscount has been a magic cross for me so far, producing two back-to-back Premium colts -- Fortunato H2O and Franco H2O -- who were also named Foals of Distinction by the GOV and who are both being kept as stallion prospects. Both colts, owned by pros Lehua Custer and Bryce Adelle Quinto, respectively, are being raised under the watchful eye of Hilda Gurney at Keenridge Farm in California. 
​I'm desperately hoping for a keeper filly from this cross, but Raleska has for a third time conceived a colt. This colt has been sold.